The Outback amenities include a Gift Shop, Car Wash and Laundry.
Click the tabs below for more details.
Gift Shop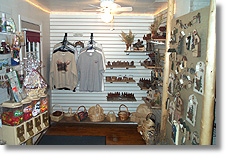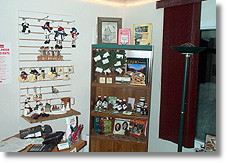 Our small Gift Shop features a variety of the practical and whimsical. We offer Idaho, Pierce and Outback sweatshirts, t-shirts, and hats. We have Idaho souvenirs and books; woodsy home decor, including candles and beautiful vases. Take home delicious Huckleberry lemonade, honey, jam or BBQ sauce. Try our Huckleberry or Idaho Potato lotion products. Our gift shop includes interesting hand-crafted items from local artists. We also carry postcards and free area information and literature. Gift Certificates are available if you would like to present someone special with an Outback Cabin Vacation.
Below is a selection of our wonderful northwest gift items:
Car Wash

Located at 215 S. Main Street, the Outback Car Wash features a covered wash bay and an exterior truck bay. Both bays have pressure and bubble brush wands. Wash selections include pre-wash, high pressure wash and rinse, foaming engine and tire cleaner, wax, and bubble brush. A vehicle vacuum is located adjacent to the Car Wash. Vending machines and a bill changer are located between the bays. The Car Wash is open 24 hours a day all year, unless severe weather limits operation.
Prices:
Car Wash: $1.75 for 4.25 minutes
Vacuum: $0.75 minimum
Laundry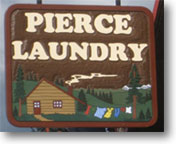 Located at 219 S. Main Street, the Laundry is always open. The Laundry has 11 coin-operated top loading washers, 1 front load double washer, 10 dryers and 1 large capacity dryer, in addition to vending machines offering individual soap, bleach, softeners and laundry bags. A small indoor children's play area is also available.
Quarters can be obtained at the bill changer located next door at the Car Wash.
Prices:
Top Loading Washers: $2.00 per load
Front Loading Washer: Regular cycle $4.50 or Super cycle $5.00
Dryers: 7 minutes per quarter
Large Capacity Dryer: $0.50 minimum; 6 minutes per quarter
Laundry Soap Products: $1.25
Laundry Bags: $0.75 and $1.00